Which flooring to choose for a modern bedroom.?
4 min read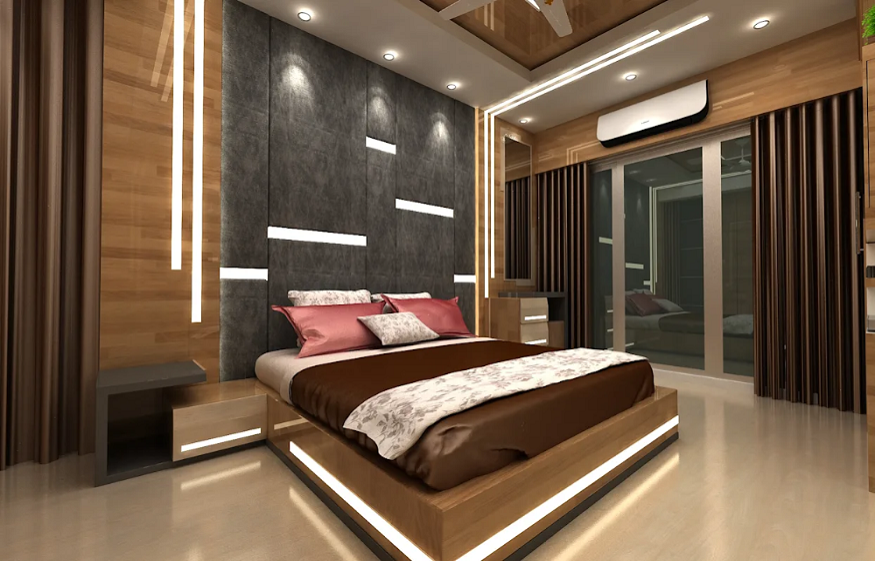 The floor
Wooden parquet is the flagship coating for our floors. Warm, aesthetic, comfortable underfoot, durable over time, this material has almost everything to please. Easily customizable, parquet comes in multiple finishes and offers a wide range of colors through the many species. In terms of color, we particularly like the parquet floors in grey, black or white oak, which are sure to match the refined codes and the color palette that characterizes the modern design style. An even bolder choice: deep black burnt parquet.
For a modern bedroom, an "English" pose is certainly the most recommended. With blades that are parallel and of the same width, it is also the most common pattern. However, if you want a more unique look, a "Hungarian point" or "herringbone" parquet floor can also be considered. With a more classic appearance, these models harmonize very well with designer furniture and contemporary decoration.
Before planning the installation of parquet in your room, note that this coating is often quite expensive when it is solid and that depending on the finish chosen, it requires regular maintenance. To lower the bill a little, you can opt for engineered parquet, or even for a laminate floor of good quality: these have made great progress both in terms of rendering and durability.
There are three main techniques for laying parquet: nailed laying, glued laying and floating laying. In any case, for an optimal result, it is advisable to call on a professional.
Modern bedroom coating: tiling
The tiling
Little considered in the north of France for bedrooms, tiling is however very common in this room in the south of the country. Refreshing on hot summer days, this easy-care coating also offers many possibilities in terms of colors and finishes. For a modern decor, opt for XXL tiles. These large tiles will give a feeling of space to the room and bring a modern and refined style. In terms of colors and effects, we will choose minimalism with a velvety texture and a plain shade drawn from shades of grey, black or white or an imitation polished stone tile with very little texture – an intense black marble without veins for example. An imitation slate tile will also look great. In all cases,
Finally, on the laying side, tiling requires a certain expertise, especially if it is XXL size tiles. Here, two techniques are mainly used: the sealed technique which consists of placing the slabs directly in the screed that is not yet dry and the glued technique, more common in renovation, which consists of fixing the slabs on a dry screed or an old coating with using an adhesive mortar. The laying of XXL tiles (60 by 60 cm and beyond) requires the simultaneous intervention of two tilers.
Modern bedroom coating: seagrass
The seagrass
For a decor that is both modern and natural, seagrass is a must! Made of plant fibres, this floor brings a warm and trendy style to the bedroom. Resistant to the test of time, it is also environmentally friendly and offers different weaving possibilities for a personalized style.
On the other hand, you should know that the seagrass is not the easiest to maintain and that it requires special attention in order to keep a good appearance and not to turn into a nest of bacteria. This coating is also sensitive to stains, which must be cleaned immediately at the risk of seeing the appearance of irreparable halos.
The installation of a seagrass floor should preferably be entrusted to a professional. Attached using double-sided tape or strong glue, the material is first cut to the dimensions of the piece.
Modern bedroom coating: waxed concrete
waxed concrete
Unconditional of the moment, waxed concrete is reminiscent of New York lofts and blends in perfectly with modern decorations. With its raw appearance, its totally linear surface, its velvety and matte touch, and the wide range of colors in which it can be found, it brings a resolutely contemporary touch to all interiors.
In terms of practicality, this material is the dream covering for those who do not wish to spend hours doing housework. Perfectly smooth, a simple mop is enough. Easy to maintain, it enjoys excellent durability. Resistant to shocks and humidity, it is a floor that is increasingly being emulated in view of its many qualities.
In the event of a laying defect, it should however be noted that waxed concrete is sensitive to cracks, which is why it is prudent to entrust the work to a specialist. Its application is also quite delicate since no less than 5 steps are necessary (preparation of the ground, preparation of the concrete, application of a first coat then a second and finally installation of a water-repellent protective finish).
Modern bedroom coating: laminate
Vinyl or PVC floors
Do you want to opt for a modern floor covering but do not necessarily have the budget for a solid parquet floor with character or beautiful tiling? A vinyl floor may be your decorative solution, since this type of covering imitates all the others. Resistant and easy to maintain, this type of floor offers very good sound insulation, which can be interesting for a bedroom in an apartment, for example. On the other hand, these petroleum derivatives are not necessarily the most ecological option: be sure to choose a good quality product, and consult its label relating to air quality before you decide.
Modern bedroom coating: carpet
The carpet
When thinking of a modern bedroom, it's rare to think of carpet as flooring. However, there are high-end products that offer a very aesthetic and contemporary look. Comfortable underfoot, the carpet brings a warm and cozy touch to the room. For a modern look, opt for neutral colors such as grey, beige or even light blue. Some graphic models are also very trendy.